Intervening Early in Psychosis
The earlier, the better.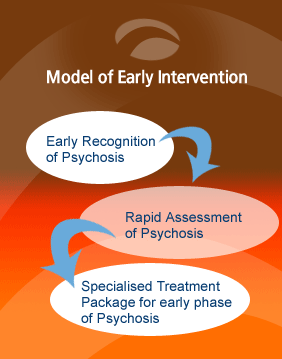 Recognising and treating medical conditions early makes sense.
This is as true for mental health conditions as it is for physical illnesses. Due to the alarming periods of time people with psychosis go untreated (on average 1-2 years) early intervention services for psychosis have been developed internationally and continue to grow. The World Health Organisation suggests that in mental health "Early intervention is fundamental in preventing progress towards a full-blown disease, in controlling symptoms and improving outcomes".
Ireland's pilot early intervention for psychosis service, DETECT, operates in South County Dublin and Wicklow. It is hoped that, in time, the pilot will prove effective in helping people with a first episode psychosis and provide guidance as to how early intervention can roll out everywhere in Ireland.
The first step of the model, recognising psychosis early, is vital to the success of the specialised treatment package (1). By carrying out public education and setting up early intervention teams, treatment delays have been reduced by more than 50% in a number of countries(2). DETECT hopes to eventually achieve similar results.
The first 3 - 5 years after the onset of psychosis is known as the "critical period". The objective of early intervention during this period is recovery. Recovery can be broken into (a) the remission of symptoms and (b) recovery in areas like work, leisure and self confidence (2). Interventions to maximise recovery in the early phase of psychosis are offered in many early interventions services including DETECT. These include psychological and family programmes.
Once the person has recovered, the early intervention team help with the smooth transition from the specialist service back to primary care or on to a community mental health service if necessary. In the DETECT model the person always remains under the care of the community mental health team so no transfer of care is required.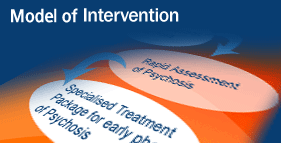 Some International Examples :-